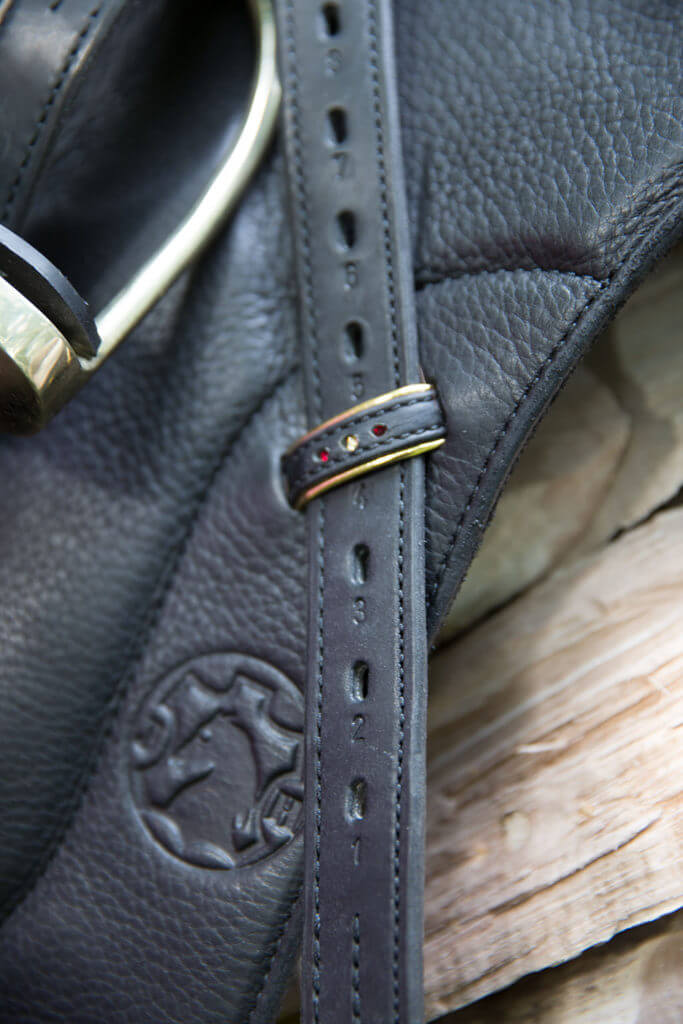 Frequently asked questions / F.A.Q.
Why choice a custom-made saddle?
In order to keep the saddle as still as possible (shoulder play), the gullet steel must be adjusted to horse shoulder in angel and length. Our special saddle cushions give the dynamic horseback more space. The elasticity of the saddle tree is also crucial for a good communication between horse and rider. This enables the rider to use the cross / buttocks axis to let his weight aids act on the horse's back through the saddle tree. Especially with short horses, in which the hindquarters activity extends strongly into the saddle position, it is important that the saddle does not bother with the back, but rather goes smoothly with the movement.
How is the saddle adapted to the rider?
Specially made knee rolls ensure that the saddle is specifically adapted to the needs of the respective rider. The individual leg posture is drawn on the horse on a plastics film, as each rider assumes a different sitting position depending on the horse (body depth and width), leg length and angle. The cut of the saddle flaps develops from this.
This ensures that the saddle is optimally adapted to the needs of the respective customer. Not only for the young or inexperienced rider, it is great of help if the saddle has a correct low point according to the horse and thus supports the balance of the rider's seat.

How does a custom-made saddle
adapt to the horse?
Just like to the rider, all anatomical peculiarities of your horse are recorded by the Hennig Service employee.
We pay attention to the horse type, square or rectangular shape. It's also very important that the center of gravity of the saddle is aligned in such a way that the cross-buttock axis of the rider acts in the area of the vertical spinous processes. This assumes that the saddle length must be adjusted to the horse's back regardless of the seat size of the rider.
In addition, each saddle is given a custom-made gullet steel with for the horse shoulder tailor-made lengths.

Adaptation of the saddle to future level of training and more ...
In addition to the rider's weight, a saddle is a burden, so it should be adapt to the horse's exterior and level of training. Depending on the growth, age and training process, the shoulder or withers area changes, which in our saddles can be adjusted again at any time by narrowing or expanding the forged head iron. The rider's size and weight are also directly related to the weight aids and therefore determine the degree of hardness, flexibility and seat length of the saddle tree. The less weight, the softer and more flexible the saddle tree. The degree of hardness of the saddle tree is determined by special springs in order to ensure optimal weight and pressure distribution.
If you have any questions about second hand Hennig saddles, you will find important information under the following heading: Saddle dimensions