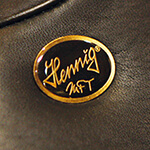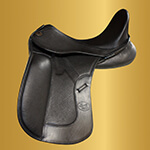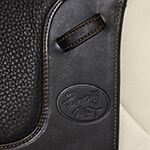 Multi Fuctional Tree - A world first from Hennig
The best saddle will give way - The MFT (Multi-Functional-Tree) is the only saddle tree worldwide with free moving points..

The in itself intended fixed gullet plate in the saddle tree (stability) is now moveble, by the patent-protected design of our MFT saddle tree.
A flexible, shock-absorbing, freely adjustable rubber membrane which allowed in load phases to such an extent that a restriction of movement is almost prevented, without affecting the stability of the gullet plate. It works according to the principle of independent wheel suspension in a car.

This relieves the shoulder muscles of the horse and now offers freedom to the muscular play instead of experiencing a rigid abutment, as in conventional saddle trees. As a result, the horse now experiences under the saddle for the first time a free flow of movement of the shoulder muscles during forward and backward footing.

Also the new independent attachment of the stirrup bars at the Hennig MFT saddletree allows the trapezius to resonate (to breathe) so that the withers can arch upwards and the back is able to swing.
The new MFT saddletree - Discover the new A-B-C of riding
Compare our top models...
Welcome to our website - it will give you a complete insight into our work.

Your saddlery Hennig